Details

Published: Wednesday, 04 March 2015 15:30



Document Scanning is proving itself to be one of the most effective ways for a business to modernise and is a bi-product of the ability to be more efficient and save space and money. 
Unlike regular document scanning, when documents are scanned for organisations in bulk they are scanned in their hundreds every minutes utilising the latest technology. All documents are scanned, checked and processed into high quality recognisable formats such as PDF and TIFF. Read more about how Pearl Scan can help you with your document scanning needs.
Additional benefits of document scanning
On top of this, when documents are scanned they can also be indexed by particular criterias such as name, reference number, client ID and much more. They can also be converted to fully searchable documents through the use of OCR (optical character recognition) which recognises the characters on the page and adds an invisible layer containing the text so that it is findable and selectable.
About our document scanning service
Throughout the ten years we have been in business we have learnt and offered solutions to companies and organisations of all sizes. We take this into account with every single quote we send out, every company we consult and every job that we successfully complete. We have worked with the likes of Sky, BBC, NHS (Trusts, Practices and Hospitals), Environment Agency amongst many other recogniseable names.

If you're interested in Pearl Scan's scanning service, please give us a call on 0161 832 7991 so we can set you up with a quote, or please feel free to fill out our online quote request form.

What are the Features of Document Scanning and Digitizing?
Our documents scanning and digitizing service goes through two methods: scanning/conversion and indexing. Document scanning/conversion steps:
1. Document Preparation: Remove staples, bindings etc.
2. Document Scanning: Convert hardcopy to digital image.
3. Image Enhancement: De-skew, increase digital quality, image clean up etc.
4. Image Formats: TIFF compressed, PDF (200 dpi to 600 dpi).
At Pearl Scan Solutions we carefully analyse your goals and needs, conduct tests, and explore alternatives before designing and implementing the conversion process. We will also work with you to develop the right search solution for you.
We are a Document Scanning Bureau based in London and Manchester with more than 10 years' of experience in the UK, our scanning process goes through a strict supervision and we use the latest in image processing technology to guaranty the best results.
Request a Quote | Contact Us | This email address is being protected from spambots. You need JavaScript enabled to view it.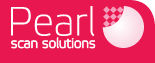 The Scan-do Peopletm

For more information feel free to give us a call:
Nationwide: 0845 22 55 923 London: 0207 183 1885
Manchester: 0161 832 7991 Birmingham: 0121 285 1900