Details

Published: Wednesday, 04 March 2015 14:47
Are Microfiche and Microfilm Still Used?
It might surprise you to think that microfiche and microfilm are still used as a storage solution when there are better, more convenient and 'smaller' solutions available. But now common is this storage practice even in the 2000′s? Well more common than you might think. Despite computer hard drives being an excellent way to store documents and files cheaply and securely, microfiche are still a very convenient way to storing files.
Why do people still store on microfiche and microfilm?
There could be any number of reasons for this depending on the individual. It can be as simple as that they have always done it this way and they don't want to change that as they may have a considerable backlog of microfiche or microfilm and if they were to go a more digital route, they would potentially have to convert all the other microfiche they have (which isn't that expensive typically, but most think it would be). There is also a conception that microfiche have a lifespan of over 100 years when compared to that of CDs and DVDs which have an approximate lifespan of around 10 years, which is a considerable difference.
Many are traditionalists who prefer to do it the old way much like that of film photography over digital but like film photography, there are less and less suppliers that can offer the service.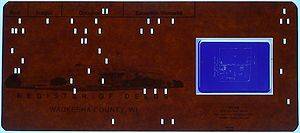 A backlit aperture card showing hollerith holes and 
the microform image (Photo credit: Wikipedia)
Microfiche and Microfilm; a dying breed
Whilst microfiche were once the leading way to store files they have been eclipsed first by the advent of floppy discs (remember those?), then CDs, DVDs and external and internal hard drives where files are literally invisible and not just minified like a microfiche or microfilm would do.
Microfiche are simply no longer a plausible output for the majority of people. With digital formats offering more flexibility than merely viewing the files as you would do on a microfiche reader. Essentially when a microfiche is made digital, the files are exported as PDFs and you can do pretty much anything you would do with any other type of PDF. The content of them can even be made searchable if required and plausible.
The Future of Microfiche and Microfilm
…It's ironic, but whilst they were once the very best way of storing documents in a compact way, they now simply take too much room…

To be blunt, microfiche doesn't really have any kind of a future, much as it hasn't for a good 20 years or so now. There are still millions out there that contain important information, but for the most part they end up being converted to digital formats and discarded. It's ironic, but whilst they were once the very best way of storing documents in a compact way, they now simply take too much room.
Request a Quote | Contact Us | This email address is being protected from spambots. You need JavaScript enabled to view it.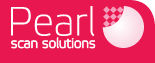 The Scan-do Peopletm

For more information feel free to give us a call:
Nationwide: 0845 22 55 923 London: 0207 183 1885
Manchester: 0161 832 7991 Birmingham: 0121 285 1900