Microfiche Scanning and Conversion services
Microfiche slides are a document storage format which were very popular decades ago. This is because it was easier to store these documents on a microfiche slide rather than keep them stored away as paper documents.
Now that we are moving into the digital age it is becoming more beneficial to have these archived files available electronically.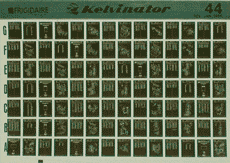 Microfiche scanning ensures that these can be securely backed up electronically, multiple times and accessed instantly. This is a difficult to manage process with microfiche slides.
Digitising your businesses fiche makes good sense, we back up our hard drives and it gives extra peace of mind that your valuable documents can be stored in a compact and easily accessible way.
We scan and convert these images into convenient electronic formats such as TIFF, JPEG or PDF for ease of access and a more secure, convenient electronic method of storage.

A Microfiche is a 105 x 148 mm film holding many small images of singular archived documents. It is better known as a 16mm microfiche, a jacketed 16mm microfiche or a COM fiche. Microfiche either hold a maximum of around 60 or 270 images per slide. This will depend on what type/size of microfiche you have.
Why choose to convert
Types of Microfiche and Microfilm
More Information
Microfiche Reader vs Converting: Why Conversion is the superior choice
Although a Microfiche Reader might make sense initially, they can be quite heavy, cumbersome machines and also very expensive. Even second-hand machines can cost around £3000.
That's why it makes more sense to take up a scanning and conversion service. Not only is it a great investment for your organisation, it's also more productive as multiple members of staff will be able to view the scanned Microfiche files digitally from their individual computers. One Microfiche Reader can only allow one member of staff use at one time. So not only is scanning a space saver, it's also an incredible cost saver in both staff hours and finances in comparison to the purchase of one Microfiche Reader.
And by using Pearl Scan for your scanning you can also have our exclusive search software so you'll be able to search and get quick results.

How will digitising my fiche help me?
With microfiche scanning multiple file backups can be made and one CD can hold many fiche images. This offers peace of mind that the data is all securely backed up

Locate any document simply using a text search rather than searching through each fiche to find that one page
Archived scanned documents can be stored on a network so that relevant staff can access electronic files at any time
Documents can be distributed easier electronically via e-mail or online hosting eliminating the need to print, post or fax them which saves on costs
OCR (Optical Character Recognition) conversion also makes any fiche documents fully text editable and text searchable
OCR conversion for Microfiche scanning
When the fiche are scanned in they can be scanned and converted regularly as flat images or they can be scanned in much more detail using OCR scanning. This can read and convert any text on the images.
Once converted this text can be used by anyone afterwards as a reference. The document then becomes text searchable so that any keyword can be found quickly throughout the documents' pages.
This adds further convenient access to the data and is especially useful if you need to use the documents for editing purpose in Microsoft Word or Excel.
Microfiche Scanning and Indexing
As well as the fiche/microfilm scanning process we also provide specific document indexing. The scanned files can be indexed to your exact specification or laid out just as the original fiche/microfilms. Here are some examples of how documents are often indexed:
Reference Number
Alphabetically
Date
Drawing Number / Plan Name
Client Name
Free Document search, View, Print and e-mail Software!
To make any fiche or microfilm conversion process easy for document retrieval, we can include our FREE file search software as a part of the microfiche scanner service.
This user friendly software is available on CD. It is designed for non-technical users and will start up as soon as you insert the disk. By typing in any file name in the search box it will instantly display any requested document on your screen. From this you can email, print and distribute any document. Previously this was a long winded process when held on the slides which is another benefit of microfiche scanning.
We also offer the Microfilming Service!
If you wish to have your documents archived onto a microfilm or to a jacketed microfiche we can supply the required services and convert
For information on an electronic document management system which manages your electronically stored documents click here.
Call Pearl Scan on 0161 832 7991 for more information on our services and latest offers, or get yourself a FREE online microfiche scanning quote.